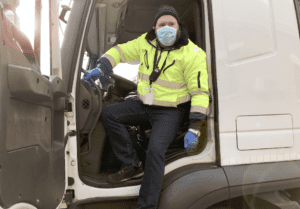 The coronavirus pandemic has made a huge impact on nearly everyone's daily lives, including those looking to get their license back. For those who have lost their Michigan driver's license due to multiple DUIs, the effects may be especially pronounced during a crisis like this.
If you're looking to get your license back after a revocation, here are some of the most important things to know about the effects of the coronavirus pandemic and the importance of winning back your driving rights.
The Coronavirus Hasn't Stopped the Need to Drive
Even though many people are confined to their homes for most of the day due to social distancing practices and stay at home orders, the coronavirus pandemic hasn't eliminated the need for people around Michigan to drive on occasion. The ability to drive yourself from place to place is even more important for essential workers like those in the healthcare field, grocery store employees, and important infrastructure workers.
For these workers, having a valid driver's license can help facilitate safe daily transportation. You don't need to rely on friends and family who may be at risk or utilize transportation services that could put you into contact with more people than necessary. The ability to get to and from work on your own is currently the safest option for everyone involved, and it gives you more control over your schedule so you can get sufficient rest in between long shifts.
Even for those who aren't still performing essential work during this crisis, the ability to drive legally can help individuals stay safe while running errands like grocery shopping, picking up medications, and visiting healthcare providers. Those who are unable to drive themselves may have to rely on friends and family, ride sharing services, or public transportation. While these options are valid for those who have no other options, they aren't exactly the safest methods of transport when people around the state and the country are trying to maintain social distancing practices.
The Benefits of Regaining Your License in a Time of National Crisis
Getting your license back can have a wide array of positive effects on your daily life that span far beyond the current national crisis. However, many of those benefits are especially pronounced right now. In addition to the ability to maintain distance from others and take proper safety precautions, winning back your legal driving rights can offer tons of convenience and even potential cost savings.
For example, if you're not currently able to drive legally, you probably need to rely on others for most of your transportation needs. You have to work around their schedule to run essential errands or get to work for daily shifts. If you don't have friends and family who are able to provide reliable transportation, you may be stuck using ride sharing services that can represent a significant extra expense that many people cannot currently afford.
In other instances, you may be left relying on delivery services for things like groceries and meals from local restaurants. However, these services often come with extra costs that aren't ideal even during normal times. So during a national crisis where many individuals aren't working or have had their hours or pay cut, extra fees for things like delivery may be downright out of the picture.
The logistics of getting your license back may also be impacted due to the coronavirus. For now, hearings are still being done by the Michigan Secretary of State, so cases are moving forward and you don't need to put off your application or worry about major delays. And since many people aren't currently working, it may actually be easier to get people from your community to set aside some time to write their letters of support. Since these items are essential for your case and you need several of them from people in various areas of your life, this extra time can be a major benefit for speeding along the process.
If You've Been Affected By a DUI, Your Need to Drive Again Now Could Be Higher Than Ever
It's clear that getting your license back in Michigan is beneficial no matter the circumstances. But the current national crisis highlights the importance of safe and legal driving rights even more. If you can get your license back, you may be able to enjoy extra independence and freedom so you can exercise more control over your daily life. Whether you're an essential worker who needs reliable transportation to work or just want a safe and affordable way to get to and from the grocery store, having the option to drive yourself can be a major benefit.
If you've had your license revoked due to multiple DUIs and you have maintained at least a year of sobriety, now may be the perfect time for you to start the license restoration process. It takes a bit of time to gather evidence and build up a case, but you don't need to put off the start of the process due to the pandemic. Winning your Michigan driver's license back can make a huge positive impact on your life currently and in the future.
If you're ready to get your license back, an experienced Michigan driver's license restoration lawyer can help you navigate the ins and outs of the process. They can help you understand what evidence is required and what extras may be beneficial for your case, while also preparing you for the hearing and giving you the best possible chance of a successful outcome.